Commercial Air Duct Cleaning
Free Estimate: 781-826-1205
Commercial Duct Cleaning
Commercial air duct cleaning is a field with many different requirements. From Class 10,000 clean rooms, medical, dental and veterinary facilities, banks, schools, office complexes, college, dorms and industrial/manufacturing buildings, American Clean Air, Inc. has extensive experience.
Each commercial project presents a different set of needs.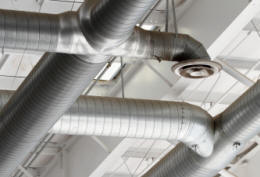 Upon American Clean Air, Inc.'s initial consultation, we listen to the customer to establish the reason they have contacted us. We evaluate the HVAC system, the space in the building and how it is used. Are there blueprints available? If so, they are helpful to give us a total picture of the layout of the HVAC system.
We establish what goal the customer is trying to reach. Sometimes there are IAQ (Indoor Air Quality) complaints from employees or tenants. We are conscious of the sensitivity of these situations and our employees have been trained to be discreet.
In facilities that do manufacturing we find that often times particulates migrate into the administration office areas, poising a health threat. Cleaning these systems and establishing good IAQ protocols has helped many companies eliminate complaints and increase productivity.
Once an estimate is put together our office staff will contact the customer with a proposal. The packet will include references and a list of recent projects completed by us. Once the proposal is accepted, we will send certificates of insurance. If the work needs to be done "off hours", we will work with the customer to find a suitable schedule to accommodate the needs of the client.
Please contact our office for a free estimate: 781-826-1205